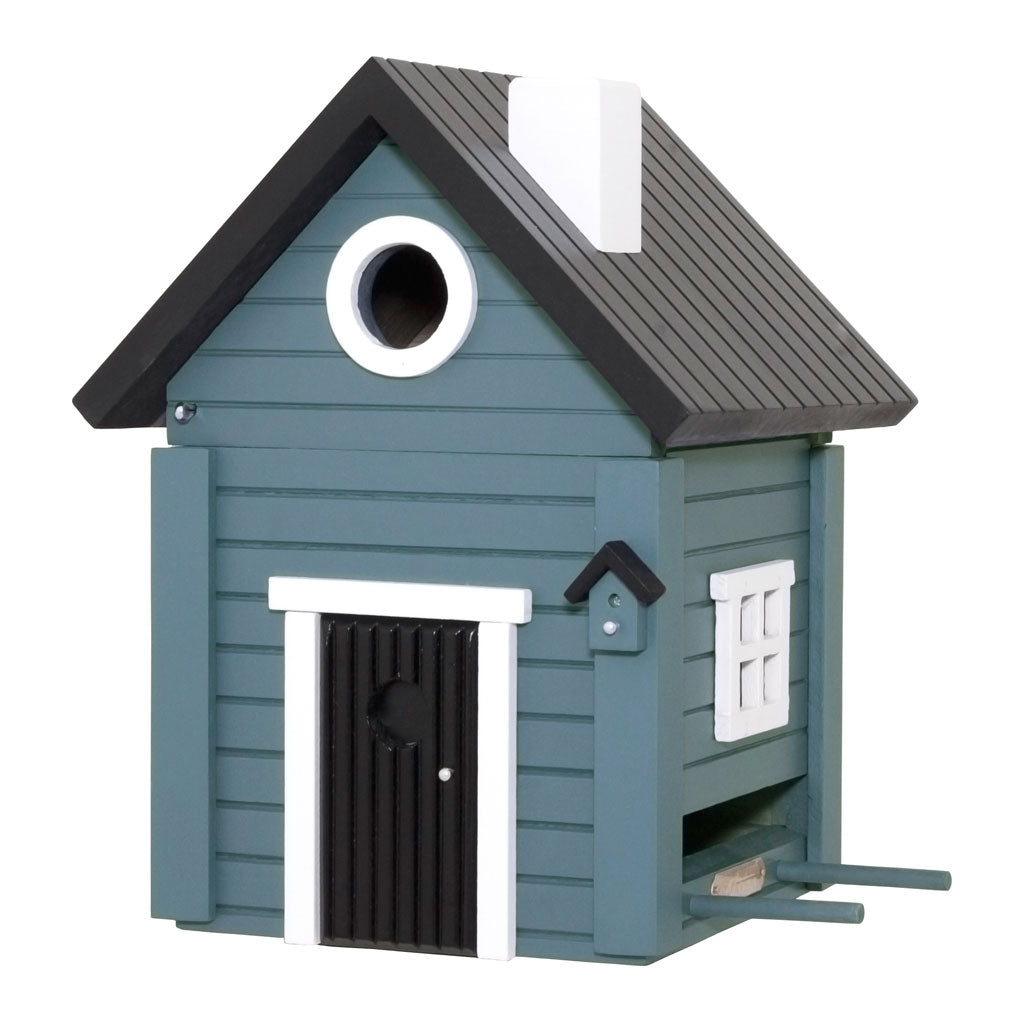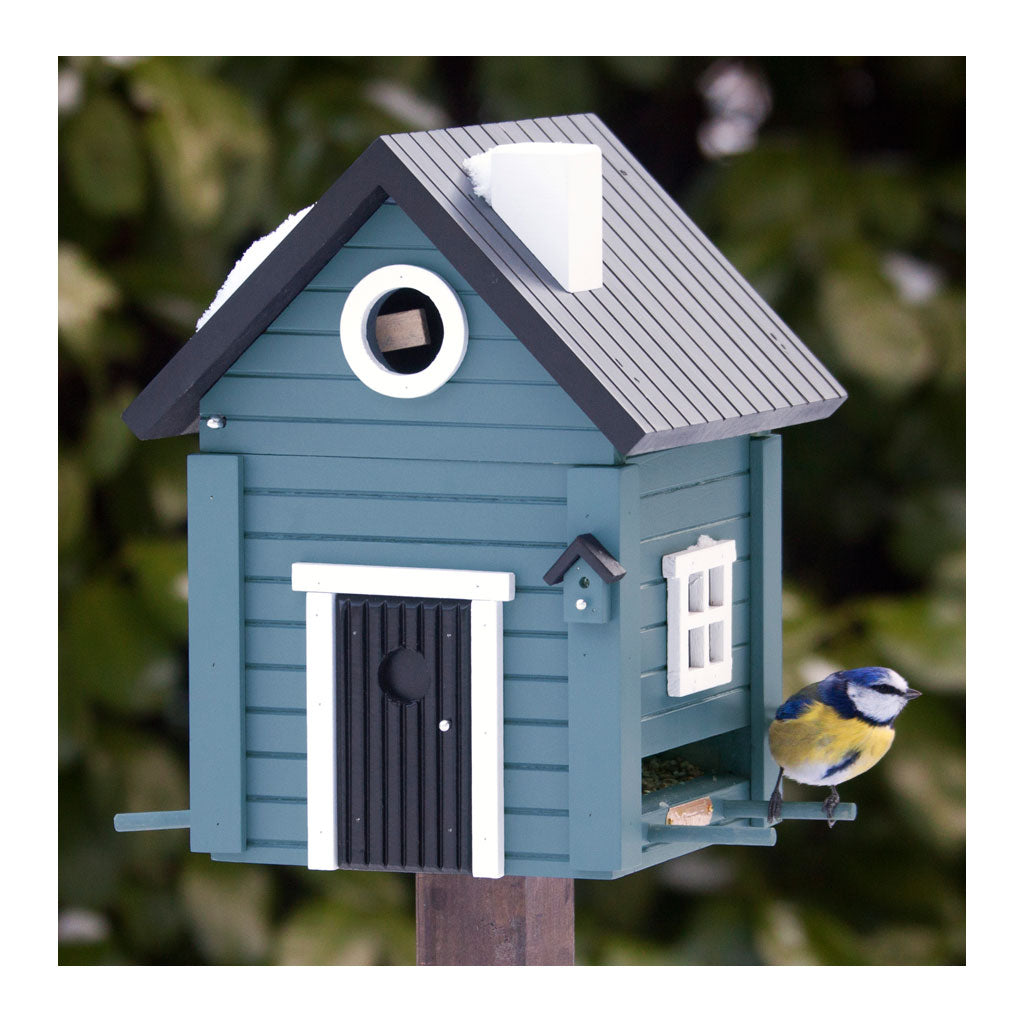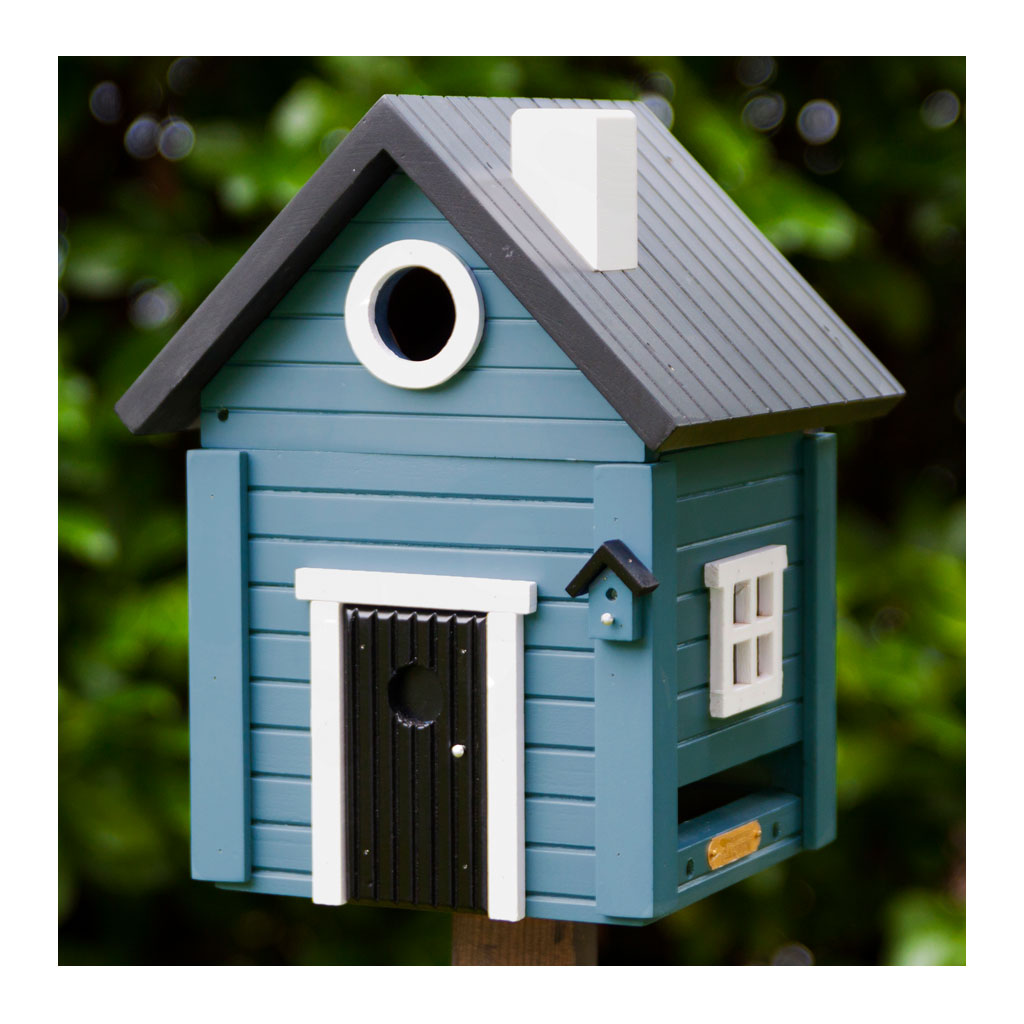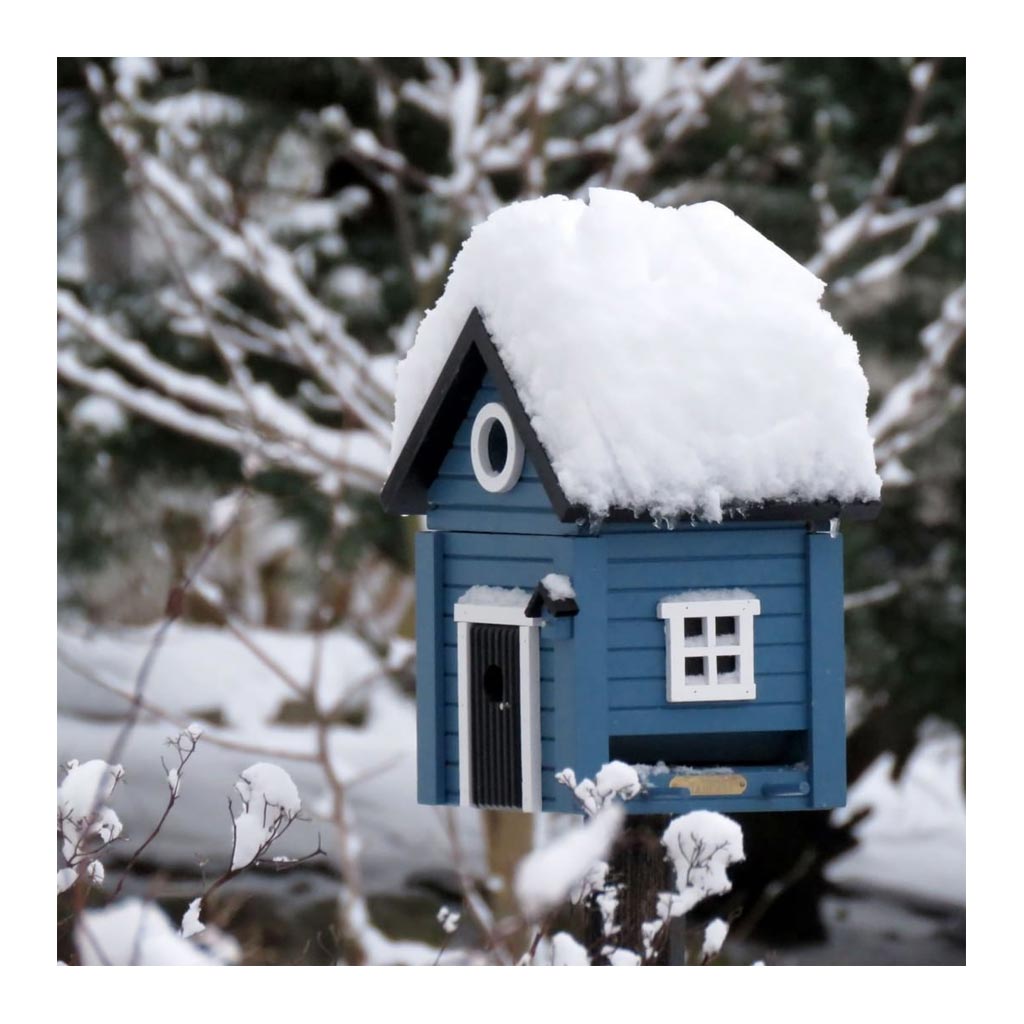 $129.00
$149.00
Designer Bird House + Feeder - Cornflower
Sign in now and get 1,290 points (valued at $12.90) when you purchase this item. Not a loyalty member? Join now for free
Style now, pay later! Afterpay + Zip Money interest-free payment options available at checkout
Estimate Shipping
For a more accurate estimate, please ensure you input a quantity above
Bring your garden, balcony or courtyard to life by inviting beautiful feathered friends to come rest and feed in style!

A combined nesting box and bird feeder, the Multiholk Designer Bird House + Feeder is built as a series of adorable miniature houses. Designed in Sweden along with ornithological experts, they are handcrafted from solid wood, and painted in gorgeous designs using environmentally friendly paints.

These bird houses have been designed to be as functional as they are beautiful, to ensure that bird feed is protected from rain and snow, and that it cannot be contaminated by droppings. To further ensure hygiene, perches are placed at feed windows at the bottom of the house so that birds don't sit in the food (as they would with open platform feeders). Additionally, perches are kept narrow so that large birds such as crows are unable to land, allowing small birds to feed in peace.

Suitable for mounting to a wall, tree or post, the Designer Bird House + Feeder comes with an integrated fixing bracket and screw, so you can install it with ease, and enjoy a garden filled with beautiful, magical birds in no time!
FEATURES:
Stylish, Swedish design. Winner of the 'Garden Product of the Year' award in Sweden in 2006
Robust, sturdy construction, handcrafted from solid wood
Entrance hole that can be closed when used as a bird feeder rather than a bird house. Suitable for most birds smaller than a house sparrow
Adorable detailing, such as a charming little window, chimney, front door and even a little mini bird house!
Climbing notches to help young birds climb up to the entrance hole when the time comes
Ventilation holes for ventilating the nesting box on warm summer days
Feeding windows in the bottom of the house, with perches for small birds to land on
2L feed capacity, protected from the elements, droppings and large birds
Easily switch the house between a nesting box and bird feeder with the change in seasons
Made from sustainable and ethically logged wood from well-managed forests and painted with environmentally friendly paints
Dimensions
19.8cm (W) x 18.7cm (D) x 25cm (H)
Materials
Solid wood
Colour
Cornflower Blue
Capacity
Max 2L of feed

Responsible bird feeding

Love your feathered friends? Be a responsible bird feeder by providing high quality food (such as sunflower seeds), rather than thinned out mixtures and human leftovers that are generally too high in salt or sugar for birds. Also, remember not to overfill your feeder - it should serve as a place for birds to visit and enjoy a snack, and isn't intended to be their only source of food.

For hygiene reasons, always use a closed feeder, such as the Multiholk Designer Bird House + Feeder, and not an open platform feeder where birds can sit in the food and contaminate it with droppings.

Providing a clean and safe environment for your feathered visitors will keep them happy and healthy, and bring them back to your garden again and again!
Large birds
This bird house has been designed for small birds only. If you see large and aggressive birds trying to access the feed or attempting to destroy the bird house, make sure you shoo them away, and consider moving the bird house to a different location.
Photo credit
Images and footage provided by Wildlife Garden, Sweden.  Photographed by Mette Ottosson + Johan Ander
SHIPPING METHOD
We deliver our products by courier to ensure that your package will arrive safe and sound. Because of this, there needs to be a person present at your specified delivery address during standard business hours to receive and sign for the goods.
Alternatively, at the time of placing your order, you can give permission for the courier to leave the package at your front door, side gate, back porch etc… if no one is home at the time of delivery. Please do not list a PO Box, as couriers can only deliver to a physical address.
If the address is unattended at the time of delivery the courier will simply leave a note card which you can use to either arrange a pick-up from their closest depot, or organise a redelivery of the item (charges may apply and are paid directly to the courier company).
SHIPPING TIMEFRAMES
We aim to dispatch all items within 4 business days of an order being placed, and delivery itself should take anywhere between 1 – 6 business days depending on where you are having it sent. Once dispatched, you'll receive an email with a tracking number so that you can track the whereabouts of your parcel online via our courier company's website.
As a guide, shipping times to Australian metro cities are generally as follows:
Metro Melbourne, Sydney and Adelaide: 1 – 2 business days
Metro Brisbane and Canberra: 2 – 3 business days
Metro Hobart: 2 – 4 business days
Metro Perth: 5 – 6 business days
Please note that the above timeframes are our courier's estimates only, and delivery times may vary during busy periods.
SHIPPING COST
Please enter your postcode into the postage calculator above to find out what the delivery charge for this item would be, based on the quantity that you've selected. Remember, for all homewares orders over $99, shipping is free of charge! Also, Melbournians can enjoy capped price shipping of $65 on all orders to metro Melbourne.
For more information regarding shipping, please see our Shipping page or our shipping FAQs
Our furniture items are designed and manufactured to ensure the highest standards of quality and performance, and all come with a 2 year limited warranty against defects due to faulty materials or workmanship. Conditions apply and full details of our product warranty can be found here.
Our homeware items that we source from Australian wholesalers carry the supplier's 1 year manufacturer warranty.  
If you have any problems at all with an item that you've purchased from us, please send an email to info@thedesignedit.com.au and we'll take care of it for you.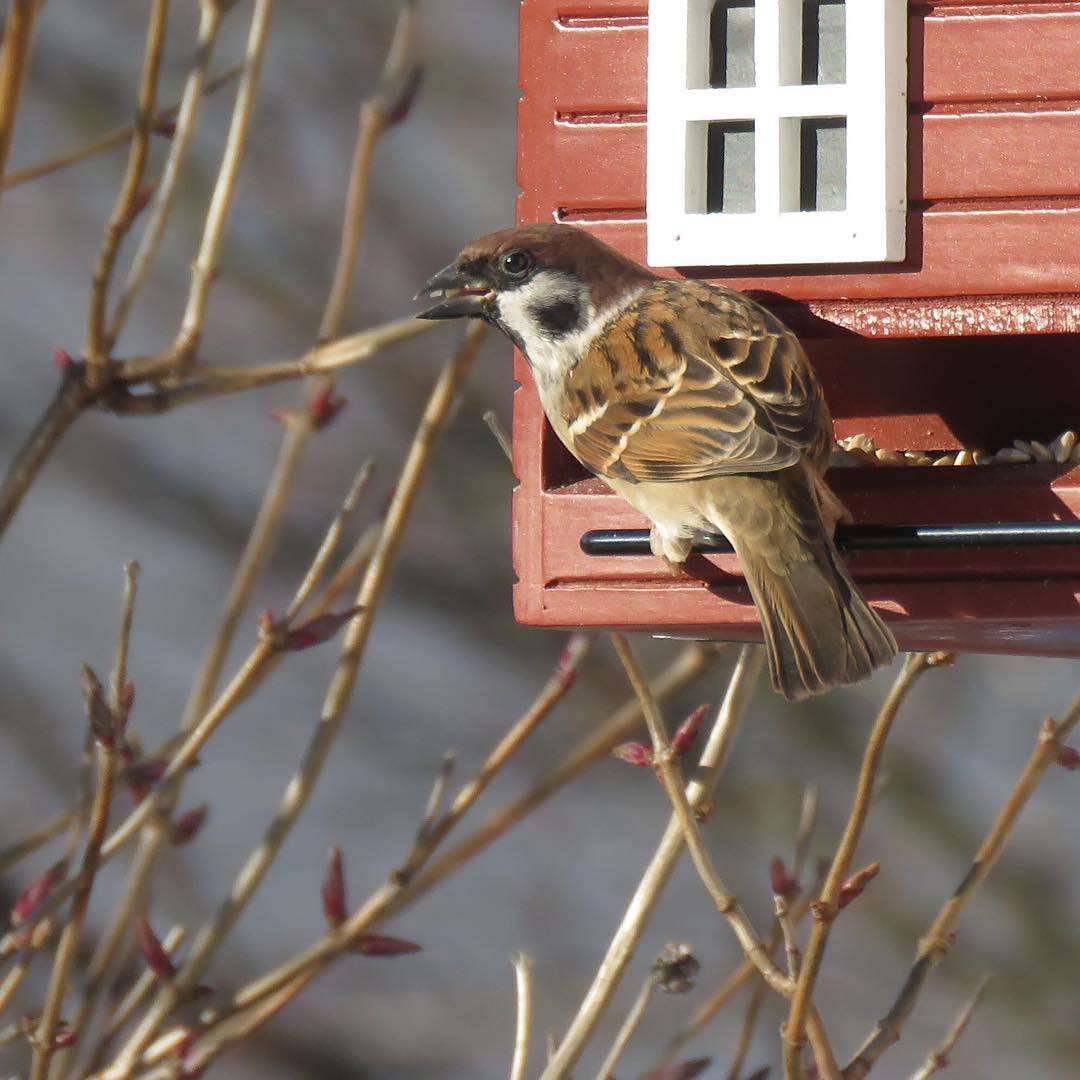 Only the Best for Your Feathered Friends
Stylish, hygienic, functional + safe, this is by far the best bird house you can get for your little feathered visitors! By providing the perfect environment for nesting or feeding, you will attract beautiful birds to your garden year-round.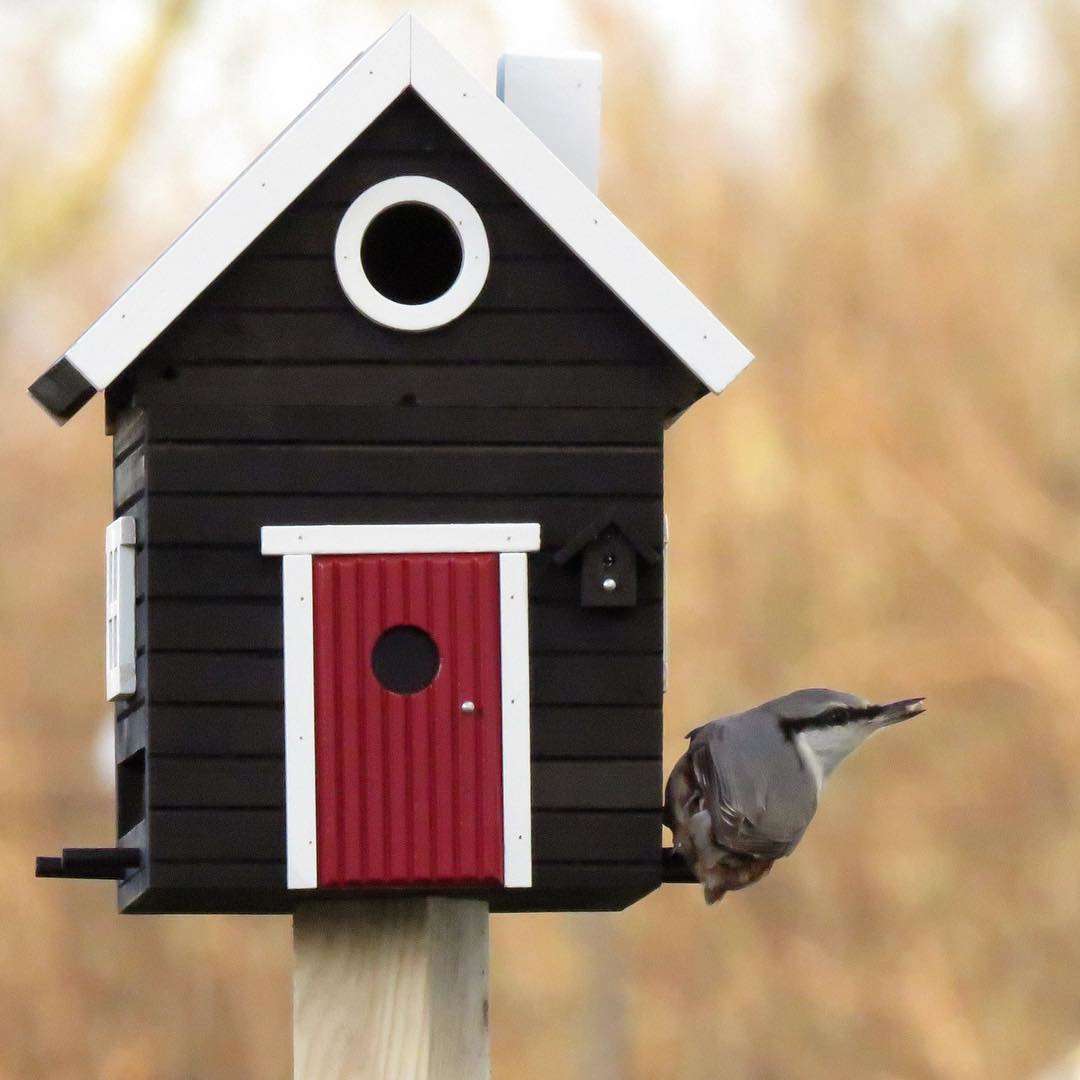 Swedish Design Meets Ornithological Expertise
Winner of the 'Garden Product of the Year' award in Sweden in 2006, this unique bird house combines stylish Swedish design with ornithological knowledge, resulting in a product that is not only attractive, but also meets the needs of the birds and the environment.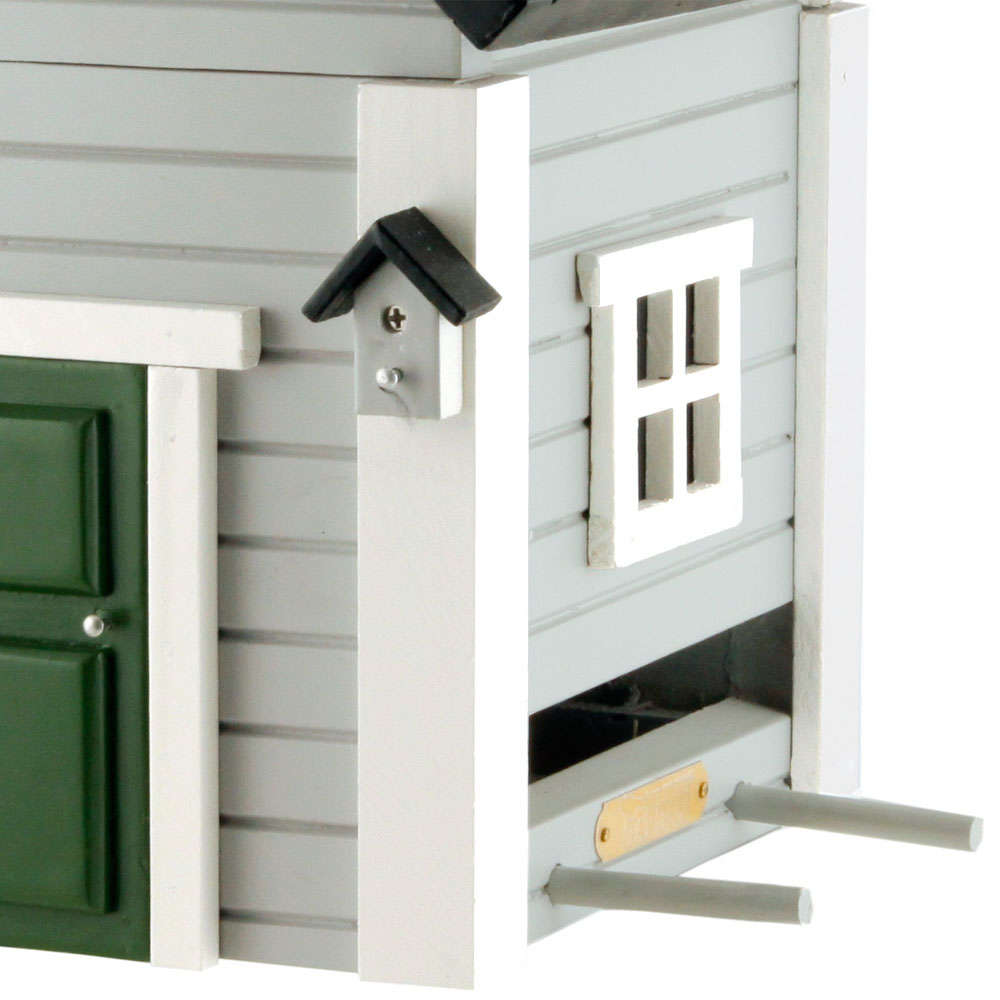 Beautiful Craftsmanship + Detailing
Made from solid wood, and painted in gorgeous designs, these adorable miniature houses feature fine detailing, such as little windows + a stylish front door.
The Designer Bird House + Feeder is built to last, lovingly hand-crafted in sustainable and ethically logged wood from well-managed forests, and painted with environmentally friendly paints. Sturdy in construction and stylish in design, birds will enjoy this beautiful house for many years to come.
See the Designer Bird House + Feeder in Action
Watch this short video of beautiful little birds enjoying the sanctuary and food of the Designer Bird House + Feeder.
Open modal